There was a great turn out with 15 members with some old, some current, and some new members allowing the crew to brake up into three crews. Chris lead a crew to cover STS, Dale S crew covered Gazos Fireroad, and Peter and Mike's crew headed to Creeping Forest.
Chris Young's Crew on Skyline To the Sea (STS)
My group was assigned to clean up along the Skyline to the Sea trail. Members included myself, Shyamal, Janette and first day member Michael who read about the trail crew online and Jonathan, who went through Big Basin docent training and wanted to give trail crew a try.
We hiked from Park Headquarters right onto the STS trail. Our first site was a 32" Doug Fir that had been standing dead for sometime before falling across the trail. Saw work went quickly through the rotten wood. Jonathan and I worked at the log while Shyamal went ahead to scout out our next site up past Middle Ridge Fire Road. Janette and Michael were following behind brushing the trail as we went along. Some work with the McLeod by Janette made the trail look pristine.
We caught up with Shyamal on the downward side of Skyline to the Sea from Middle Ridge. There was a tan oak (perhaps 6" diameter) across the trail that was not listed in our work sheet. A little chainsaw work and clearing of slash put things back in order. Shyamal also reported he had fixed a small trail slip out as well.
We stopped for lunch and then continued on to our 2nd assigned work site which was a slide covering a steep portion of the Skyline to the Sea trail. Shyamal, Janette and Michael worked on that while Jonathan and I went on to find the next site just west of the Sunset Connector.
A large 34" Doug Fir had fallen across the trail in two places where the path made a switch back.
In retrospect we probably should have done some limited clean up here and moved on. However we have had good luck tackling equivalent trees with an 18" bar in the past so we set into work. After 3 hours of work the rest of the crew had done a good job of cleaning up around the tree while I finally chiseled (literally) out a small gap. We were running short on daylight so we had to let that stand as it was until we can return with Big Bertha to finish the job correctly.
At least the trail is perfectly passable. We should have plenty of work to do next month!
Dale 2's crew along Gazos Creek Fire Road
D2's group consisted of David B., David P. and long time absent Beth Wichman with her son Alex. Welcome back Beth and a welcome aboard her son Alex.
We took the easy route, but we still kept busy, Gazos Creek Rd. Along with stops for small stuff on the road, below are the fun ones.
Stop #1: A small slide with a couple small trees on it.
Stop #2: An 11" Madrone, base cut. The first chain sawing of our day.
Stop #3: A 6" oak creeping out onto the road. Alex showing us his skills.
Stop #4: Another pesky oak.
Stop #5: Then an 11" Douglas Fir.
Stop #7: brought us to a 26" Tanoak, slide and a broken road. We removed the smaller 12" oak, leaving the larger one to help hold the road together.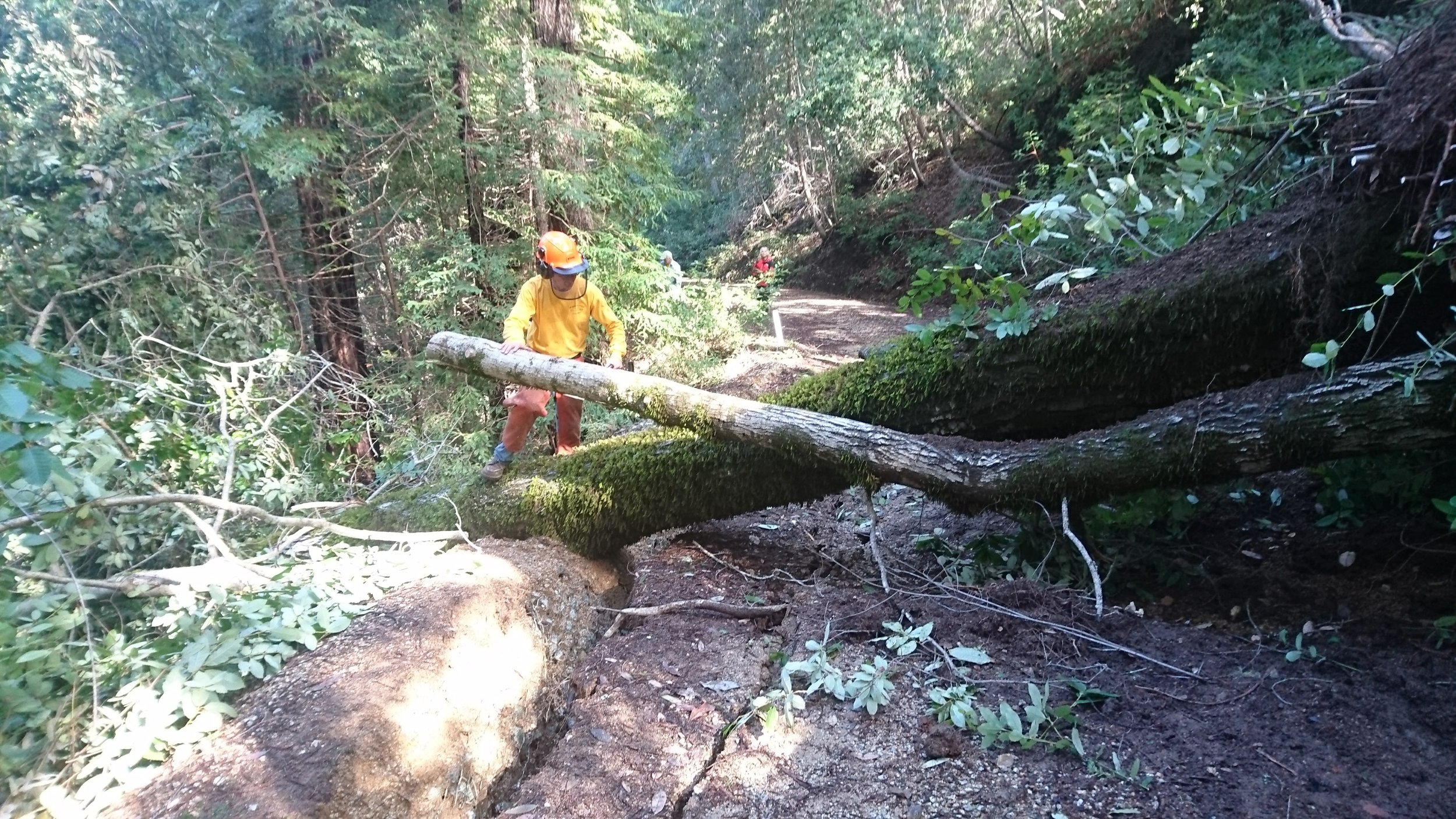 Stop #8: A multi piece 20" Douglas Fir. . We also got to play with the local wildlife. As Dave B. and Dale S cleaned up, Beth, Alex and Dave P. did some drainage work.
Stop #9: Cutting a 30" Douglas Fir back a little further off the road.
Stop #10: 6" oak across the Redwood Loop Trail. After Mike got to make use of our donated Echo saw during his day, I got to give it a try.
Pete and Mike's crew on Creeping Forest
Peter and Mike's crew included Michele, former ranger Mimi Guiney and her husband Steve, and Norm. We primarily worked on Creeping Forest.
The Tale of Three Chainsaws tree on Creeping Forest. Don't laugh, it got to this point where we used hand saws. It took a lot of work, but success!
It was a long day, with the 3 crews clearing almost 20 items on the roads and trails. The crew put in 108 hours for the day with a year total of 148. Thanks to workday crew members Chris, Dale S., David P., Mike, Janette, Shyamal, Peter, Michele, Norm, Beth and new members Alex, Mimi, Steve, Michael, and Jonathan for another long productive workday.
See you on the Trails
by Chris, Dale S., and Mike
editor Jeff
photos by Peter, Beth, Dave B. and Dale S